Mantra IRIS Scanner MIS100 V2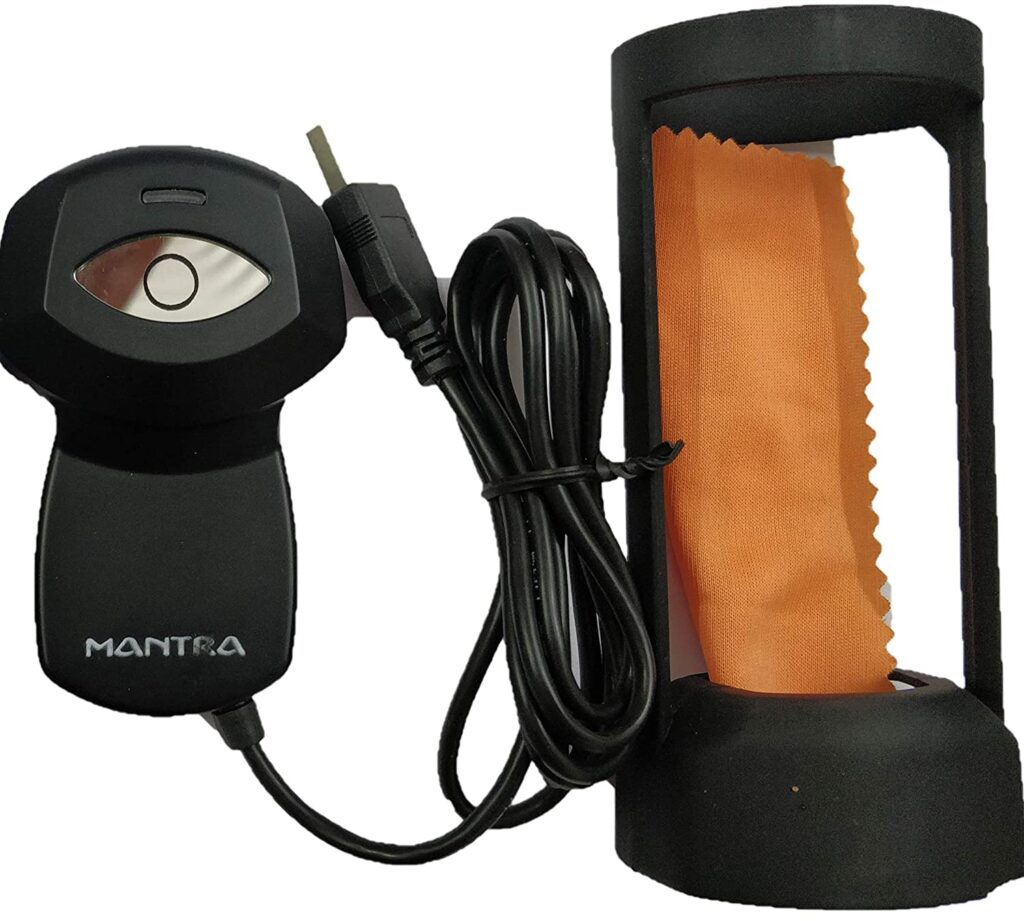 Mantra IRIS Scanner is a powerful and robust iris scanner, utilized in multiple projects and known for its accuracy and precision. When Government of India introduced many public interest projects then this product comes in the picture. This product comes with online RD service for authorization to communicate with the UIDAI or Aadhar server for biometric data validation. This product converts the IRIS data into the unique binary codes and send to the Aadhar server via RD service for validation checks. Aadhar server checks the validation and revert back the validation results to every corresponding applications.
Mantra MIS100V2 is a high-quality USB IRIS Scanner for IRIS Authentication. It provides higher security and usability with high-level image matching and better iris image assessment qualities. MIS100V2 is ultra-compact that can auto-capture the iris image of an individual.
This product can be utilized widely for identity applications like Aadhaar Authentication, Banking Applications, and Access Control Applications. MIS100V2 quality algorithm can efficiently identify poor IRIS images that can be adjusted smoothly based on inbuilt LED indications. Our STQC-certified iris sensor is comprised of a high-Resolution CMOS Sensor that creates quality ISO/IEC 19794-6 Images with JPEG2000 compression. MIS100V2 proprietary distance sensing and focus analysis technology gives fast auto-capture capabilities.
Product Specification:
| | |
| --- | --- |
| Spatial Resolution | 50% 1.0 LP/mm |
| Pixel Resolution | > 10 pixels/mm |
| Image Margins Left & right | >=0.6x iris radius |
| Top & bottom | >=0.2x iris radius |
| Imaging Wavelength | 700-900 nm |
| Pixel Depth | 8 bits/pixel |
| Output Image | KIND1 to KIND7 with JPEG2000 compression |
| Capture Mode | Auto capture with built-in quality check |
| Capture time | < 2 Sec |
| Safety Exempt Group | Per IEC 62471:2006-07 |
| ESD Air | Discharge+-8 Kv, contact type+-4Kv |
| Radiated Emission | FCC part15B/IEC: CISPR 22 CLASS B standard |
| Radiated Immunity | As per IEC/EN 61000-4 3:2006+A2:2010 |
| Health Safety | RoHS Compliant |
| Connectivity | USB 2.0 / USB 1.1 |
| Operating System | Support Windows XP, Win7, Win2008, Android, Linux, Embedded Linux |