Electromagnetic Lock 600 LBS for any type of Door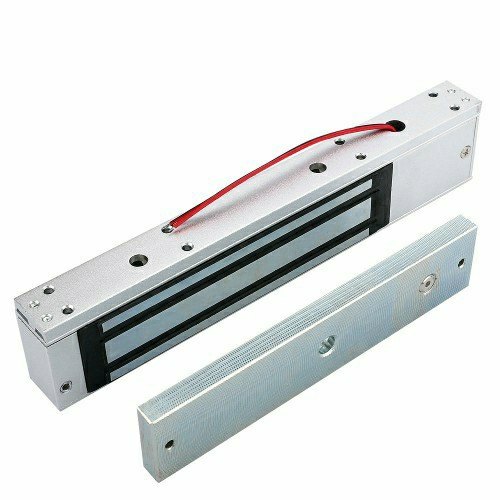 Electromagnetic Lock 600 LBS or 280KG force can be applied but it will not open. This is a single door electro magnetic locks which works on 12 volts atleast 2 amp of current for locking door from one side. When its fitted in any door full glass, framed glass, wooden, metal or sliding door its blocked one side opening of the gate. Electromagnetic Lock 600 LBS has 280 kg magnetic lock holding force with LED light blink red for close and green for open. It can be opened by push button or any access control device. It's still using with attendance machine, access controller, multi door access controller, normal push button etc. devices.
This magnetic lock mechanism widely and broadly used in every type of door access control setup and very easy to setup, maintain and long durability to work. Its build from aluminuim alloy material and avg. weight is 1.5 kg. For opening in emergency cut the power is the only option for opening this type of locks or you can make more than 280 kg force to open the gate otherwise it won't open.
Product Specification
| | |
| --- | --- |
| Holding Force | 600 lbs (280 kg) |
| Ideal for | Main Door, Glass Door, Metal Door, Framed Glass Door |
| Material | Aluminium |
| Application | Wooden Door, Glass Door, Metal Door, Framed Glass Door, Sliding Door etc. |
| Unlocking Mode | Exit Push Switch |
| Features | Durable Nature, Less Maintenance, Super Finish, Trouble Free Performance |
| Usage/Application | Wooden Door, Glass Door, Metal Door |
| Item Weight | 500-1000 grams |
| Color | Silver |
| Voltage | 12/ 24 Volts |
| Armature Size L X W X D Mm | 18 * 3.9 * 1.1cm |
| Holding Force Kg | 280 kg (600 lbs.) |
| Magnet Size L X W X D Mm | 25L*4.7W*2.5H mm,25L*4.7W*2.5Hcm |
| Warranty | One Year Warranty |
| Led Indicator | RED/Green led Indicator |
| Power Input | 12 Volts, 12/24 Volts |
| Working Current | 1A |
| Power | 12/24 volts |